 News
Simply Red / 2003-2007 vinyl box set
First time on vinyl for these albums • Red vinyl • Bonus LP of remixes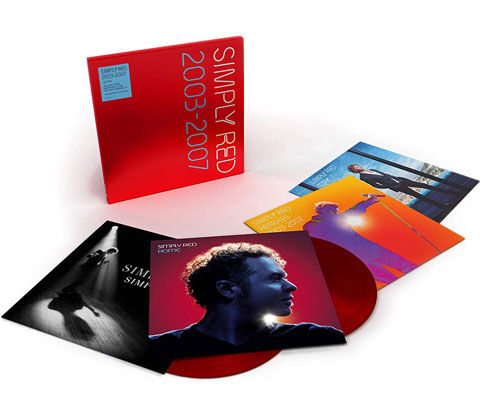 Simply Red's three albums released in the 'noughties', under the band's own simplyred.com label, are to be issued on vinyl for the first time and collected in 2003-2007, a new 4LP vinyl box set.

Home (2003), Simplified (2005) and Stay (2007) are all pressed on translucent red vinyl, as is a bonus LP of remixes from the period (and there were many). These remixes were "selected and compiled, and approved" by Simply Red.

Frontman Mick Huckall (although let's face it, he is Simply Red) enjoyed something of a career revival at this point in time, thanks to the Home album delivering two UK top ten hits including the Hall & Oates sampling 'Sunrise'.

The next album Simplified delivered reworkings of the classic Simply Red songbook and Stay was supposed to be farewell…except it wasn't because Hucknall returned in 2015 with  another Simply Red album, Big Love, although that was issued on East West and isn't part of this set.

Simply Red 2003 – 2007 will be released on 2 November 2018 by Demon Records.


Compare prices and pre-order
Simply Red
2003-2007 [VINYL]
Simply Red 2003 – 2007 / 4LP red vinyl box set
HOME
01. Home
02. Fake
03. Sunrise
04. You Make Me Feel
Brand New
05. Home Loan Blues
06. Positively 4th Street
07. Lost Weekend
08. Money In My Pocket
(Plan B Mix)
09. Something For You
10. It's You
11. Home (Reprise)
SIMPLIFIED
01. Perfect Love
02. Something Got Me Started
03. Holding Back The Years
04. More
05. A Song For You
06. Your Mirror
07. Fairground
08. My Perfect Love
09. Smile
10. Sad Old Red
11. For Your Babies
12. Ev'ry Time We Say Goodbye
STAY
01. The World And You Tonight
02. So Not Over You
03. Stay
04. They Don't Know
05. Oh! What A Girl!
06. Good Times Have Done
Me Wrong
07. Debris
08. Lady
09. Money TV
10. The Death Of The Cool
11. Little Englander
REMIXES 2003-2007
01. You Make Me Feel Brand New
(Antillas Full Vocal Edit)
02. Home (Motivo Hi-Lectro Radio
Mix)
03. Sunrise (Motivo Hi-Lectro Radio
Edit/Mix)
04. Fake (Love To Infinity Classic
Radio Mix)
05. Perfect Love (Lazy Radio Mix)
06. Oh! What A Girl!
(Sweet Connection Club Mix)
07. Stay (7th Heaven Radio Edit)
08. So Not Over You
(Motivo Pop-Lectro Remix)
09. Go Now (Trance Vocal)