 News
Simply Red / Symphonica In Rosso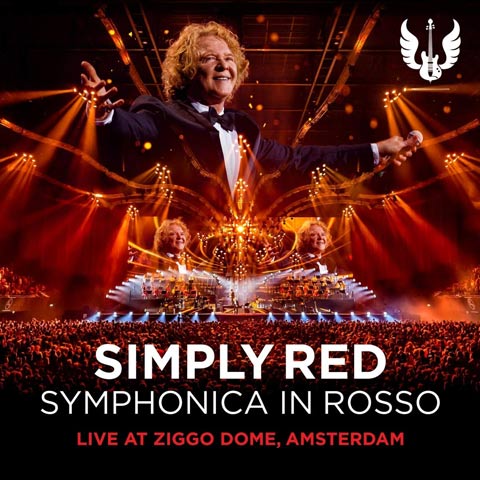 Last year Simply Red played 'Symphonica In Rosso' the annual Dutch event which sees artists perform on three nights with a full orchestra. These shows will be celebrated later this month with a new audio-video package.

BMG are releasing this as a CD+DVD edition which includes 20 tracks on DVD and 15 tracks on the CD. Additionally, a special three-disc collector's pack offers 20 track across two CDs (so five exclusive songs), enhanced bookset packaging and a printed signed setlist from the night. To be clear, Mick has signed the original setlist and the record label had these scanned/printed – so you aren't getting an actual 'real' autograph.
It's a rock solid collection with four hits from Stars, UK number one 'Fairground' and much more. The five bonus tracks included on the collectors' version are as follows: 'Your Mirror,' 'Someday in My Life,' 'Big Love,' 'You Make Me Smile,' and 'It Was a Very Good Year.' In this instance, 'Big Love' is actually exclusive to the CD since that isn't part of the filmed performance (remember there were three shows).
The CD-sized standard edition is available from the usual channels, whereas you can only pre-order the collector's set via the official Simply Red store.
Simply Red's Symphonica In Rosso will be issued on 23 November 2018.
Compare prices and pre-order
Simply Red
SYMPHONICA IN ROSSO LIVE AT ZIGGO DOME AMSTERDAM CD+DVD
Symphonica In Rosso 2CD+DVD Collectors' Edition
CD1:
1. All or Nothing at All
2. Your Mirror
3. For Your Babies
4. Someday in My Life
5. So Beautiful
6. Say You Love Me
7. Big Love
8. Home
9. You Make Me Smile
10. It Was a Very Good Year
CD2:
1. Picture book
2. Holding Back the Years
3. Stars
4. A New Flame
5. It's Only Love
6. Sunrise
7. Something Got Me Started
8. Fairground
9. My Way
10. If You Don't Know Me by Now
DVD:
1. All or Nothing at All
2. Your Mirror
3. For You Babies
4. Someday in My Life
5. So Beautiful
6. Say You Love Me
7. Home
8. You Make Me Smile
9. It Was a Very Good Year
10. Picture book
11. Holding Back the Years
12. Stars
13. A New Flame
14. It's Only Love
15. Sunrise
16. Something Got Me Started
17. Fairground
18. My Way
19. If You Don't Know Me by Now
Symphonica In Rosso CD+DVD edition
Disc: 1
  1. All or Nothing at All (Live at Ziggo Dome, Amsterdam)
  2. For Your Babies (Live at Ziggo Dome, Amsterdam)
  3. So Beautiful (Live at Ziggo Dome, Amsterdam)
  4. Say You Love Me (Live at Ziggo Dome, Amsterdam)
  5. Home (Live at Ziggo Dome, Amsterdam)
  6. Picture Book (Live at Ziggo Dome, Amsterdam)
  7. Holding Back the Years (Live at Ziggo Dome, Amsterdam)
  8. Stars (Live at Ziggo Dome, Amsterdam)
  9. A New Flame (Live at Ziggo Dome, Amsterdam)
  10. It's Only Love (Live at Ziggo Dome, Amsterdam)
  11. Sunrise (Live at Ziggo Dome, Amsterdam)
  12. Something Got Me Started (Live at Ziggo Dome, Amsterdam)
  13. Fairground (Live at Ziggo Dome, Amsterdam)
  14. My Way (Live at Ziggo Dome, Amsterdam)
  15. If You Don't Know Me by Now (Live at Ziggo Dome, Amsterdam)
  1. All or Nothing at All (Live at Ziggo Dome)
  2. Your Mirror (Live at Ziggo Dome)
  3. For Your Babies (Live at Ziggo Dome)
  4. Someday in My Life (Live at Ziggo Dome)
  5. So Beautiful (Live at Ziggo Dome)
  6. Say You Love Me (Live at Ziggo Dome)
  7. Home (Live at Ziggo Dome)
  8. Smile (Live at Ziggo Dome)
  9. It Was a Very Good Year (Live at Ziggo Dome)
  10. Picture Book (Live at Ziggo Dome)
  11. Holding Back the Years (Live at Ziggo Dome)
  12. Stars (Live at Ziggo Dome)
  13. A New Flame (Live at Ziggo Dome)
  14. It's Only Love (Live at Ziggo Dome)
  15. Sunrise (Live at Ziggo Dome)
  16. Something Got Me Started (Live at Ziggo Dome)
  17. Fairground (Live at Ziggo Dome)
  18. My Way (Live at Ziggo Dome)
  19. If You Don't Know Me by Now (Live at Ziggo Dome)