 News
Small Faces / Ogdens' Nut Gone Flake SIGNED 50th anniversary box sets
SIGNED • Coloured vinyl • Half-speed mastered • 3CD+DVD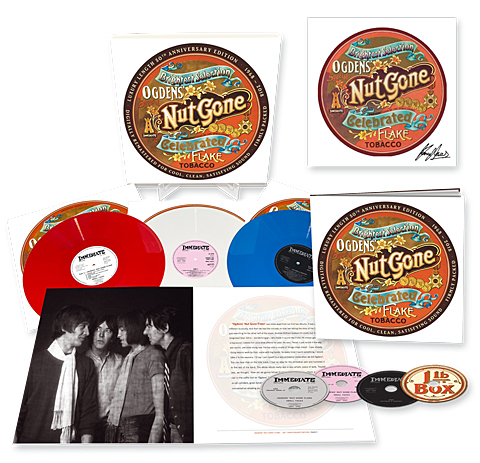 The Small Faces classic 1968 album Ogdens' Nut Gone Flake will be reissued in September as a 50th anniversary box set, with 3LP vinyl and 3CD+DVD variants available.

Issued on Immediate Records in May 1968, the album reached number one in the charts and includes Lazy Sunday, Afterglow, Song Of A Baker' and Rollin' Over.

This new 50th anniversary edition is available as a 3LP coloured (red, white and blue) vinyl set. This set comprises both mono and stereo versions of the album plus an LP of rare bonus material. Audio has been newly remastered by Nick Robbins (with the full cooperation of surviving Small Faces member Kenney Jones) and the vinyl has been cut at half-speed (by Matt Colton at Alchemy Studios)! This vinyl set comes with a deluxe booklet with in-depth sleeve notes by Mark Paytress, interviews and rare photos.
 Ogdens' Nut Gone Flake 50th anniversary 3LP vinyl (with limited signed print)

The 50th anniversary set is also available as a 3CD+DVD large format book (earbook) package. This contains almost the same audio as in the triple vinyl set (CD 3 has extra content – see track listing below) but adds a DVD that includes the Small Faces June 1968 TV performance of Happiness Stan (for the BBC's "Colour Me Pop" programme), along with Peter Whitehead's promotional film for Lazy Sunday. The hardcover book is 60-pages and features the same Mark Paytress notes etc.


Ogdens' Nut Gone Flake 50th anniversary 3CD+DVD 'earbook' (with limited signed print)

Exclusive to the official Small Faces store is a Kenney Jones 12″ x 12″ SIGNED art print available with either the 3LP vinyl, the 3CD+DVD package or the bundle of both items. This print is strictly limited to 500 in total, across all formats. Once all the signed editions sell out the listings on the store will be updated to reflect this.

Standard single LP black vinyl (also half-speed) and casebound book CD 'art of the album' editions are also available.

These 50th anniversary editions of Ogdens' Nut Gone Flake will be released on 28 September 2018. Update: The vinyl box has gone back to 19 October.

Pre-orders with limited SIGNED Kenney Jones print from the official store
(signed art prints while stocks last – keep an eye on the listings in the store)

Standard editions via the official store (not signed)
Compare prices and pre-order
Small Faces
Ogdens' Nut Gone Flake (50th Anniversary 3CD + DVD)
Compare prices and pre-order
Small Faces
Ogden's Nut Gone Flake - 3LP coloured vinyl box
LP 1 or CD 1 (Mono)
A1. Ogdens' Nut Gone Flake
A2. Afterglow
A3. Long Agos And Worlds Apart
A4. Rene
A5. Song Of A Baker
A6. Lazy Sunday
B1. Happiness Stan
B2. Rollin' Over
B3. The Hungry Intruder
B4. The Journey
B5. Mad John
B6. Happydaystoytown
LP 2 or CD 2
(Stereo)
C1. Ogdens' Nut Gone Flake
C2. Afterglow
C3. Long Agos And Worlds Apart
C4. Rene
C5. Song Of A Baker
C6. Lazy Sunday
D1. Happiness Stan
D2. Rollin' Over
D3. The Hungry Intruder
D4. The Journey
D5. Mad John
D6. Happydaystoytown
LP 3
E1. Ogdens' Nut Gone Flake (Early Session Version – Mono)
E2. Afterglow (Alt USA Mix)
E3. Long Agos And Worlds Apart (Alt USA Mix – Stereo)
E4. Rene, The Dockers' Delight (Early Session Mix)
E5. Song Of A Baker (Alt USA Mix – Stereo)
E6. Lazy Sunday (Alt USA Mix – Stereo)
E7. Every Little Bit Hurts (Early Session Mix – Mono)
F1. Happiness Stan (Backing Track – Mono)
F2. Bun In The Oven (Early Session Mix)
F3. The Fly (Take 4 – Instrumental Version – Stereo)
F4. Mad John (Take 7 – Backing Track – Mono)
F6. Happydaystoytown (Alt USA Mix – Stereo)
F7. Kamikhazi (take 7 – backing track – mono)
F8. Ogdens' Nut Gone Flake (Alt Take – Phased Mix – Stereo)
CD 3
(different from LP)
01.  Ogdens' Nut Gone Flake (early session version) (mono)
02.  Afterglow (Alternate USA Mix) (stereo)
03.  Long Agos And Worlds Apart (Alternate USA Mix) (stereo)
04.  Rene, The Dockers' Delight (Early Session Mix) ((stereo)
05.  Song Of A Baker (Alternate USA Mix) (stereo)
06.  Lazy Sunday (Alternate USA Mix) (stereo)
07.  Happiness Stan (Backing Track) (mono)
08.  Bun In The Oven (Early Session Mix) (mono))
09.  The Fly (Take 4 – Instrumental Version) (stereo)
10.  The Journey (Single Version) (mono)
11.  Mad John (Take 7 – Early Session Version) (stereo)
12.  Mad John (Single Version) (mono)
13.  HappyDaysToyTown (Alternate USA Mix) (stereo)
14.  Kamikhazi (Take 7 – Backing Track) (mono)
15.  Every Little Bit Hurts (Early Session Mix) (mono)
16.  (If You Think You're) Groovy (backing track) (mono)
17.  Afterglow Of Your Love (Alternate Single Mix) (mono)
18.  Ogdens' Nut Gone Flake (Alternate Take – Phased Mix) (stereo)
DVD
BBC Late Line-Up Presents Colour Me Pop: Small Faces (original transmission date 21 June 1968)
Presented by Michael Dean: Small Faces with Stanley Unwin
01.  Song Of A Baker
02.  Lazy Sunday (Immediate Records original promo, filmed by Peter Whitehead)
03.  Happiness Stan
04.  Rollin' Over
05.  The Fly
06.  The Journey
07.  Mad John
08.  HappyDaysToyTown