 News
The Hitchhiker's Guide to the Galaxy: Hexagonal Phase / 3LP vinyl
First time on vinyl • Luxury presentation • Signed print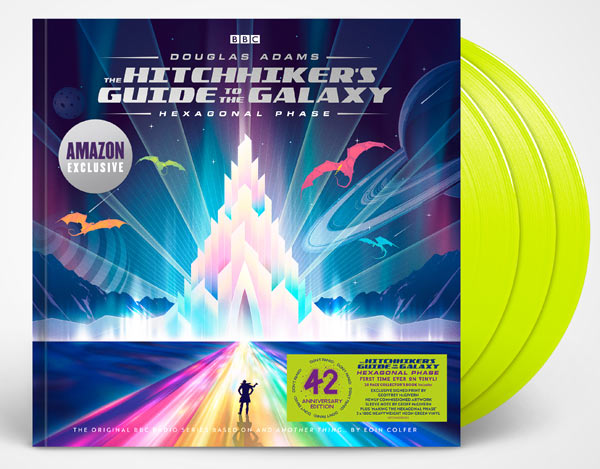 In March, Demon Records will issue Hexagonal Phase, a new 3LP coloured vinyl deluxe set that features the last ever BBC Radio series of Douglas Adams' classic comedy science fiction radio show The Hitchhiker's Guide To The Galaxy.

The Hitchhiker's Guide to the Galaxy: Hexagonal Phase arrives on heavyweight neon green vinyl, and of course the packaging is consistent with the high standards of the preceding Primary, Secondary, Tertiary, Quandary and Quintessential Phase releases.

This full cast radio play was adapted from Eoin Colfer's And Another Thing… the well received official sequel to Douglas Adams' original book series. It also features some original material by Adams himself and was broadcast in 2018.




This has been previously available on CD and as a digital download, but this is actually the first time on vinyl and in face the first ever publication of the original radio edits of the Hexagonal Phase, as heard on their original Radio Four Broadcast.

Hexagonal Phase stars John Lloyd as the book, with Simon Jones as Arthur Dent, Geoff McGivern as Ford Prefect, Mark Wing-Davey as Zaphod, Sandra Dickinson as Trillian/Tricia Mcmillan, Samantha Béart as Random and Jim Broadbent as Marvin, with a guest cast including Jane Horrocks, Lenny Henry, Jon Culshaw, and more. The music is by Philip Pope.

This audio is presented on three 180g heavyweight neon green vinyl records secured in the hardcover 20-page book which features sleeve note by Geoff McGivern and Jem Roberts, (Adams's official biographer).

There is an exclusive edition of this set (only available via Amazon UK) which includes a printed signed by Geoff McGivern (Ford Prefect). This is limited to 500 copies.

The Hitchhiker's Guide to the Galaxy: Hexagonal Phase is released on 13 March 2020.


Compare prices and pre-order
Hitchhiker's Guide to The Galaxy
Hexagonal Phase - 3LP SIGNED EXCLUSIVE
Compare prices and pre-order
Hitchhiker's Guide to The Galaxy
Hexagonal Phase - 3LP standard edition
Side A
Episode One –Fit The Twenty-Seventh
Side B
Episode Two -Fit The Twenty-Eighth
Side C
Episode Three -Fit The Twenty-Ninth
Side D
Episode Four –Fit The Thirtieth
Side E
Episode Five -Fit The Thirty-First
Side F
Episode Six -Fit The Thirty-Second