 News
The Jam / The Gift super deluxe edition / more details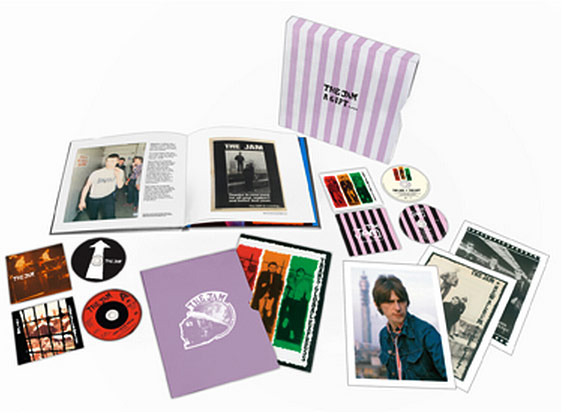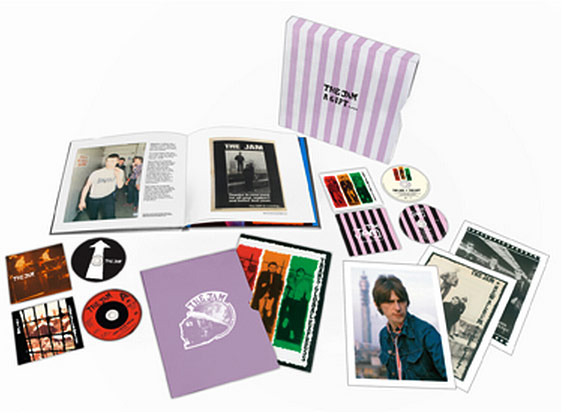 More details have emerged about the forthcoming The Gift super deluxe edition box set from The Jam. The four disc box will include 13 unreleased demos and alternate versions on disc two, while the third CD offers a complete concert from the last ever Jam tour – 23 tracks remasterd. The DVD provides promo clips and various live performances, including a Danish TV special.
The original UK vinyl came in a lilac and white stripped paper back and the outer slip case for this set reflects that design with "The Jam – A Gift" written on it. A nice touch.

This box set is due for release on 19 November 2012.
---
Features:
Outer box in original striped bag style cover – 'The Jam – A Gift'!
Hardback 72-page, full-colour book – including period and fan's memorabilia, magazine cuttings (NME etc.), reviews, photos, new interviews (with Paul Weller and producer Peter Wilson)
Forward by Paul Weller and new essay by John Harris
Set of postcard prints
Four discs, in individual wallets:
1. Disc 1 – original album re-mastered
+ 10 singles/b-sides from the period, up to the split.
2. Disc 2 – bonus tracks
15 demos & alternate tracks, 13 previously unreleased, re-mastered
3. Disc 3 – Live at Wembley December 1982
23 tracks, complete concert from the last ever Jam tour (previously unreleased), re-mastered
4. Disc 4 – DVD compilation
Promo clips (Town Called Malice / Precious / The Bitterest Pill)
Trans-Global Unity Express tour – live tracks from Birmingham show:
01. Town Called Malice
02. Carnation
03. Precious
04. Ghosts
05. Move On Up
06. Private Hell
07. Pretty Green
08. "Trans-Global Express"
09. The Gift
Danish TV special (DR) The Gift album live in small studio with audience
Top Of The Pops – 1982 – Town Called Malice / Precious
---
PRE-ORDER The Gift Super Deluxe Edition
---