 News
The Who announce a new album 'WHO'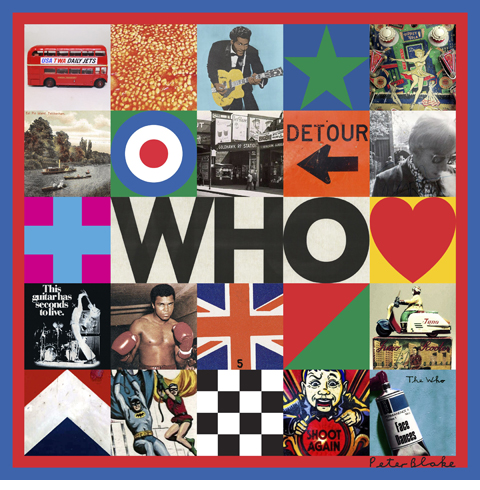 Rock legends The Who will release 'WHO' their first studio album in thirteen years, this November.

The eleven-track album features the talents of long established Who musical stalwarts Zak Starkey (drums) and Pino Palladino (bass) along with Simon Townshend, Benmont Tench, Carla Azar, Joey Waronker and Gordon Giltrap. The record was co-produced by Pete Townshend & D. Sardy with 'vocal production' by Dave Eringa (best known perhaps for his work with Manic Street Preachers).
Bearing in mind that musicians are always terrible judges of their own work, Roger Daltrey says he rates it amongst their strongest "I think we've made our best album since Quadrophenia in 1973, Pete hasn't lost it, he's still a fabulous songwriter, and he's still got that cutting edge". See if you agree, by previewing 'Ball and Chain' from WHO, below.
The artwork is of course immediately recognisable as the work of Sir Peter Blake, who created the iconic cover for The Beatles' Sgt. Pepper's Lonely Hearts Club Band. The Who's relationship with Blake actually pre-dates that period; they met him in 1964 at a taping of the legendary TV show Ready Steady Go. Sir Peter also designed and contributed a painting to the sleeve of The Who's album Face Dances in 1981.
Pete Townshend is refreshingly candid about the new work and his and Roger's place in the world in 2019. He says:
"This album is almost all new songs written last year, with just two exceptions. There is no theme, no concept, no story, just a set of songs that I (and my brother Simon) wrote to give Roger Daltrey some inspiration, challenges and scope for his newly revived singing voice. Roger and I are both old men now, by any measure, so I've tried to stay away from romance, but also from nostalgia if I can. I didn't want to make anyone feel uncomfortable. Memories are OK, and some of the songs refer to the explosive state of things today. I made new home studio demos of all these songs in the summer of 2018 using a wide collection of instruments old and new. We started recording as The Who in March 2019, and have finished now in late August just in time to make some vinyl………maybe even some cassettes……ready for release in November".
In terms of formats, the deluxe CD features three as unspecified bonus tracks. It's only a jewel case (in what looks like an outer slipcase) though, so hardly 'deluxe' in terms of packaging. There is a standard black vinyl, but available via The Who store is a triple coloured vinyl package which features the 11-track album cut at 45RPM over 180g blue & red discs with a white 10" pressing of never before heard 1965 demo 'Sand'. Various bundles are also available. Also, HMV in the UK have an exclusive 2LP vinyl where the second record is a selection of classic hits.
WHO is released on 22 November 2019.
Compare prices and pre-order
Compare prices and pre-order
The Who
Who - black vinyl LP
All This Music Must Fade
Ball And Chain
I Don't Wanna Get Wise
Detour
Beads On One String*
Hero Ground Zero
Street Song
I'll Be Back
Break The News**
Rockin' In RageShe Rocked My World
All songs written by Pete Townshend except
*Pete Townshend/Josh Hunsacker
**Simon Townshend
Produced by Pete Townshend & D. Sardy
Roger Daltrey Vocal production Dave Eringa
Mixed by D. Sardy