 News
Tom Petty / Wildflowers reissue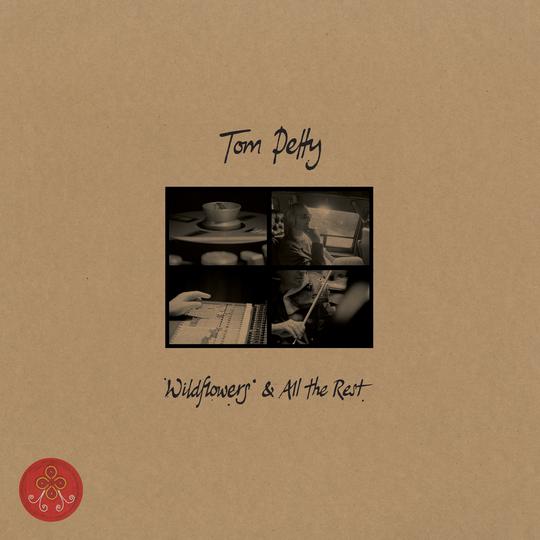 Seven physical formats for the 1994 album
Warner Records will reissue an expanded version of Tom Petty's album Wildflowers in October, across many formats.

Dubbed Wildflowers & All The Rest for this campaign, the core offering is the remastered Wildflowers album plus a ten-track bonus album All The Rest. Together this represents all 25 songs from the original recording sessions. Five of the ten songs on All The Rest are previously unreleased. This version of the reissue is available as a 2CD set or a 3LP vinyl package.
The deluxe editions are 4CD and 7LP vinyl respectively. These sets obviously include the content mentioned above but add a Home Recordings/Demos offering (15 intimate demos of the songs) and a Wildflowers Live selection (14 songs played live by Tom Petty and the Heartbreakers from 1995 to 2017).

7LP deluxe edition of Wildflowers
If that's not enough, then special super deluxe editions add an CD or two extra LPs to the deluxe versions. The extra content is 'Finding Wildflowers' – 16 alternate versions recorded in the studio.
And if THAT'S not enough there is a 'Ultra Deluxe Edition' (at $500) which is the 9LP set plus what we like to call here at SDE 'stuff' – e.g. "Exclusive fabric bag designed and manufactured by Made Worn in Los Angeles, with custom metal Wildflowers closure" and "Wildflowers logo cloth patch" and "Handmade bead necklace, in pouch" and a lot more. The super and ultra deluxe editions are only available via the Tom Petty store.
Wildflowers will be reissued on 16 October 2020.
Wildflowers – 2CD edition
CD1: Original Album
01 Wildflowers
02 You Don't Know How It Feels
03 Time To Move On
04 You Wreck Me
05 It's Good To Be King
06 Only A Broken Heart
07 Honey Bee
08 Don't Fade On Me
09 Hard On Me
10 Cabin Down Below
11 To Find A Friend
12 A Higher Place
13 House In The Woods
14 Crawling Back To You
15 Wake Up Time
CD2: All The Rest (10 tracks 5 unreleased songs)
01 Something Could Happen
02 Leave Virginia Alone
03 Climb That Hill Blues
04 Confusion Wheel
05 California
06 Harry Green
07 Hope You Never
08 Somewhere Under Heaven
09 Climb That Hill
10 Hung Up And Overdue
Wildflowers 4CD deluxe
CD1: Original Album
01 Wildflowers
02 You Don't Know How It Feels
03 Time To Move On
04 You Wreck Me
05 It's Good To Be King
06 Only A Broken Heart
07 Honey Bee
08 Don't Fade On Me
09 Hard On Me
10 Cabin Down Below
11 To Find A Friend
12 A Higher Place
13 House In The Woods
14 Crawling Back To You
15 Wake Up Time
CD2: All The Rest (10 tracks 5 unreleased songs)
01 Something Could Happen
02 Leave Virginia Alone
03 Climb That Hill Blues
04 Confusion Wheel
05 California
06 Harry Green
07 Hope You Never
08 Somewhere Under Heaven
09 Climb That Hill
10 Hung Up And Overdue
CD3: Home Recordings (15 tracks – 3 unreleased songs; 12 unreleased versions)
01 There Goes Angela (Dream Away)
02 You Don't Know How It Feels
03 California
04 A Feeling Of Peace
05 Leave Virginia Alone
06 Crawling Back To You
07 Don't Fade On Me
08 Confusion Wheel
09 A Higher Place
10 There's A Break In The Rain (Have Love Will Travel)
11 To Find A Friend
12 Only A Broken Heart
13 Wake Up Time
14 Hung Up And Overdue
15 Wildflowers
CD4: Wildflowers Live (14 tracks – 12 unreleased versions; 2 distributed to Fan Club only)
01 You Don't Know How It Feels
02 Honey Bee
03 To Find A Friend
04 Walls
05 Crawling Back To You
06 Cabin Down Below
07 Drivin' To Georgia
08 House In The Woods
09 Girl On LSD
10 Time To Move On
11 Wake Up Time
12 It's Good To Be King
13 You Wreck Me
14 Wildflowers
Wildflowers 3LP edition
LP1 & LP2: Original Album
01 Wildflowers
02 You Don't Know How It Feels
03 Time To Move On
04 You Wreck Me
05 It's Good To Be King
06 Only A Broken Heart
07 Honey Bee
08 Don't Fade On Me
09 Hard On Me
10 Cabin Down Below
11 To Find A Friend
12 A Higher Place
13 House In The Woods
14 Crawling Back To You
15 Wake Up Time
LP3: All The Rest (10 tracks 5 unreleased songs)
01 Something Could Happen
02 Leave Virginia Alone
03 Climb That Hill Blues
04 Confusion Wheel
05 California
06 Harry Green
07 Hope You Never
08 Somewhere Under Heaven
09 Climb That Hill
10 Hung Up And Overdue
Wildflowers – 7LP deluxe edition
LP1 & LP2: Original Album
01 Wildflowers
02 You Don't Know How It Feels
03 Time To Move On
04 You Wreck Me
05 It's Good To Be King
06 Only A Broken Heart
07 Honey Bee
08 Don't Fade On Me
09 Hard On Me
10 Cabin Down Below
11 To Find A Friend
12 A Higher Place
13 House In The Woods
14 Crawling Back To You
15 Wake Up Time
LP3: All The Rest (10 tracks 5 unreleased songs)
01 Something Could Happen
02 Leave Virginia Alone
03 Climb That Hill Blues
04 Confusion Wheel
05 California
06 Harry Green
07 Hope You Never
08 Somewhere Under Heaven
09 Climb That Hill
10 Hung Up And Overdue
LP4 & LP5: Home Recordings (15 tracks – 3 unreleased songs; 12 unreleased versions)
01 There Goes Angela (Dream Away)
02 You Don't Know How It Feels
03 California
04 A Feeling Of Peace
05 Leave Virginia Alone
06 Crawling Back To You
07 Don't Fade On Me
08 Confusion Wheel
09 A Higher Place
10 There's A Break In The Rain (Have Love Will Travel)
11 To Find A Friend
12 Only A Broken Heart
13 Wake Up Time
14 Hung Up And Overdue
15 Wildflowers
LP6 & LP7: Wildflowers Live (14 tracks – 12 unreleased versions; 2 distributed to Fan Club only)
01 You Don't Know How It Feels
02 Honey Bee
03 To Find A Friend
04 Walls
05 Crawling Back To You
06 Cabin Down Below
07 Drivin' To Georgia
08 House In The Woods
09 Girl On LSD
10 Time To Move On
11 Wake Up Time
12 It's Good To Be King
13 You Wreck Me
14 Wildflowers