 News
Yes featuring ARW / Live at the Apollo
Limited edition 3LP vinyl set • blu-ray and DVD with 5.1 surround sound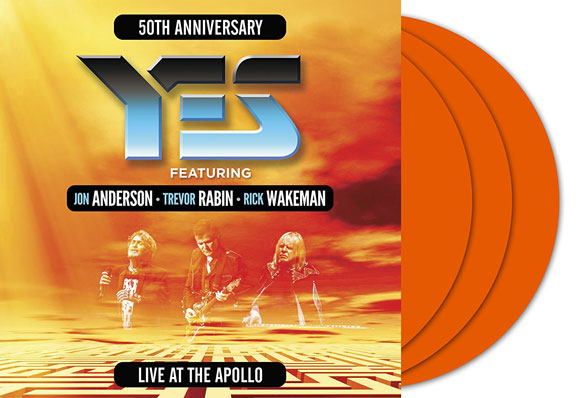 Yes featuring Jon Anderson, Trevor Rabin and Rick Wakeman have been touring recently in celebration of the prog rock band's 50th anniversary and their 2017 show at the Manchester Apollo will be issued in September across a number of formats by Eagle Rock, including this 3LP opaque orange vinyl edition.

The three musicians play classic tracks such as Roundabout, Owner Of A Lonely Heart, And You And I, Hold On, Heart Of The Sunrise, I've Seen All Good People, and more, to a sellout crowd and are joined on stage by Lee Pomeroy (on bass) and Lou Molino III (on drums).

The performance was filmed, so as well as the triple vinyl and two-CD editions, Live at the Apollo is also available on blu-ray or DVD with 5.1 surround sound.



The orange vinyl is limited to 3,500 units and until we get confirmation to the contrary it might be best to assume that, like the recent Rolling Stones No Security set, the coloured vinyl is a North America/Canada-only exclusive and not available in Europe. There are no UK links to the various editions, as yet, anyway.

Live at the Apollo will be released on 7 September 2018.


Side A
1. Intro / Cinema / Perpetual Change
2. Hold On
Side B
1. I've Seen All Good People : (i) Your Move (ii) All Good People
2. Lift Me Up
3. And You & I (i) Cord Of Life (ii) Eclipse (iii) The Preacher, The Teacher (iv) Apocalypse
Side C
1. Rhythm Of Love
2. Heart Of The Sunrise
Side D
1. Changes
2. Long Distance Runaround / The Fish (Schindleria Praematurus)
Side E
1. Awaken
Side F
1. Make It Easy / Owner Of A Lonely Heart
2. Roundabout