 News
Bob Dylan / Fragments: Time Out Of Mind Sessions 1996-1997
The Bootleg Series Vol. 17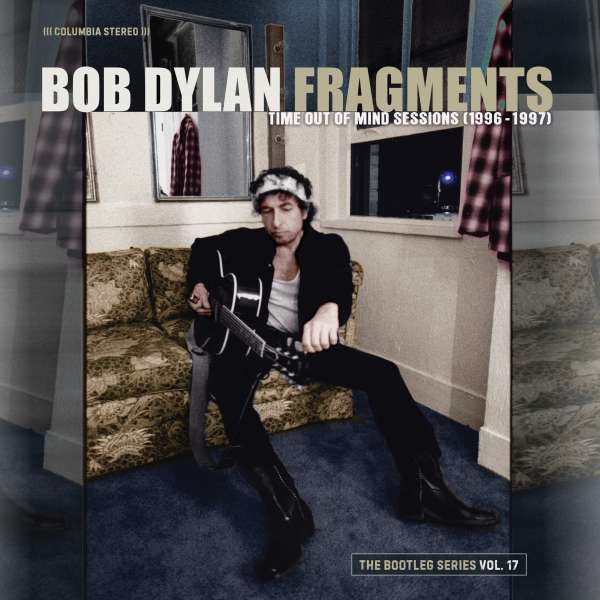 The next in Bob Dylan's Bootleg Series – Vol. 17 – will be called Fragments – Time Out Of Mind Sessions (1996-1997) and will be available in four physical formats which offer a new stereo remix of the album, outtakes & alternative versions and more.
Time Out Of Mind was released 25 years ago and quickly became recognised as a Dylan classic with songs like 'Love Sick', 'Can't Wait' and 'Not Dark Yet' and 'Make You Feel My Love' with the latter having been covered by many artists, including Billy Joel, Neil Diamond and Adele. The record won 'Album of the Year' and two other Grammys at the 1998 Award Ceremony.
The bonus material on Fragments: Time Out Of Mind Sessions traces the album's creation and includes previously unreleased song versions from the 1996 Teatro Studio demo sessions – which featured Dylan (vocals, guitar, piano), Daniel Lanois (guitar, organ), Tony Garnier (bass) and Tony Mangurian (drums, percussion) – as well as unreleased live recordings from 1998-2001.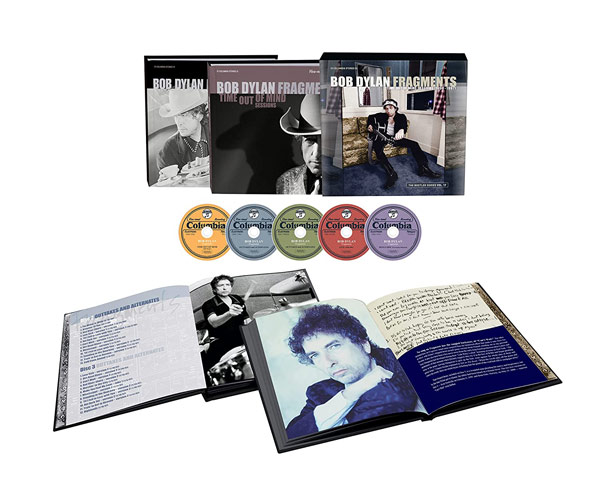 The reissue will be available as a 5CD super deluxe, a 2CD deluxe, a 4LP vinyl set and a mammoth 10LP vinyl offering (Bob Dylan store-only, £200 and limited to 5,000 units). The 2CD and the 4LP share the same track listing, which is the newly remixed album and 12 outakes/alternates. The 5CD edition offers a further CD of outtakes/alternates, a CD of live tracks (all bar one are previously unreleased) and a final bonus disc of of studio and live recordings which already made an appearance on The Bootleg Series Vol. 8: Tell Tale Signs but are repeated here. The 10LP version repeats the track listing of the 5CD set.
The Time Out Of Mind remix is by Michael H. Brauer and offers fresh look at the studio album. It removes some of the Daniel Lanois effects and focuses on the intimate atmosphere in which the songs were recorded. The goal according to Steven Hyden (who pens the notes in this reissue) was to establish "a greater closeness between listener and musician" and this remix isn't intended to replace the original, but just offer an alternative.
Fragments – Time Out Of Mind Sessions (1996-1997) will be released on 27 January 2023, via Sony's Legacy Recordings.
Compare prices and pre-order
Dylan, Bob
Fragments - Time Out Of Mind Sessions - 5CD set
Compare prices and pre-order
Dylan, Bob
Fragments - 4LP vinyl set
Compare prices and pre-order
Dylan, Bob
Fragments - 2CD set
Tracklisting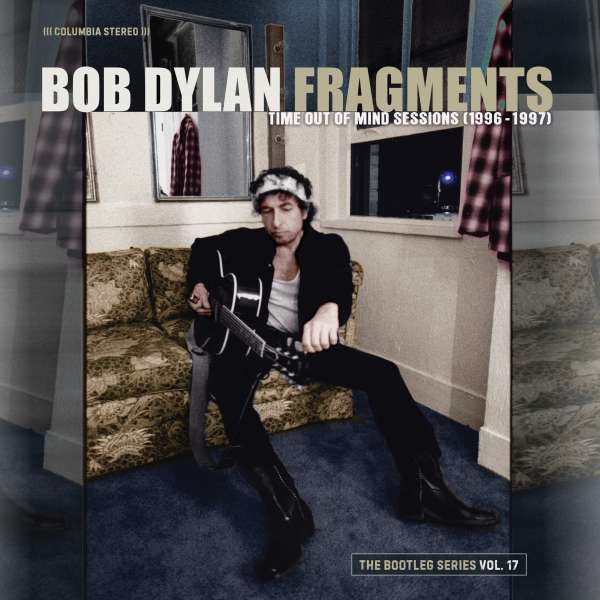 Fragments: Time Out Of Mind Sessions (1996-1997) Bootleg Series Vol. 17 Bob Dylan
/
CD 1: Time Out of Mind (2022 Remix)

Love Sick
Dirt Road Blues
Standing in the Doorway
Million Miles
Tryin' to Get to Heaven
'Til I Fell in Love with You
Not Dark Yet
Cold Irons Bound
Make You Feel My Love
Can't Wait
Highlands

CD 2: Outtakes & Alternates

The Water is Wide (8/19/96, Teatro)
Dreamin' of You (10/1/96, Teatro)
Red River Shore – version 1 (9/26/96, Teatro)
Love Sick – version 1 (1/14/97, Criteria Studios)
'Til I Fell in Love with You – version 1 (10/3/96, Teatro)
Not Dark Yet – version 1 (1/11/97, Criteria Studios)
Can't Wait – version 1 (1/21/97, Criteria Studios)
Dirt Road Blues – version 1 (1/12/97, Criteria Studios)
Mississippi – version 1 (1/11/97, Criteria Studios)
'Til I Fell in Love with You – version 2 (1/16/97, Criteria Studios)
Standing in the Doorway – version 1 (1/13/97, Criteria Studios)
Tryin' to Get to Heaven – version 1 (1/18/97, Criteria Studios)
Cold Irons Bound (1/9/97, Criteria Studios)

CD 3: Outtakes & Alternates

Love Sick – version 2 (1/14/97, Criteria Studios)
Dirt Road Blues – version 2 (1/20/97, Criteria Studios)
Can't Wait – version 2 (1/14/97, Criteria Studios)
Red River Shore – version 2 (1/19/97, Criteria Studios)
Marchin' to the City (1/5/97, Criteria Studios)
Make You Feel My Love – take 1 (1/5/97, Criteria Studios)
Mississippi – version 2 (1/11/97, Criteria Studios)
Standing in the Doorway – version 2 (1/13/97, Criteria Studios)
'Til I Fell in Love with You – version 3 (1/16/97, Criteria Studios)
Not Dark Yet – version 2 (1/18/97, Criteria Studios)
Tryin' to Get to Heaven – version 2 (1/12/97, Criteria Studios)
Highlands (1/16/97, Criteria Studios)

CD 4: Live (1998-2001)

Love Sick (6/24/98, Birmingham, England)
Can't Wait (2/6/99, Nashville, Tennessee)
Standing In The Doorway (10/6/00, London, England)
Million Miles (1/31/98, Atlantic City, New Jersey)
Tryin' to Get to Heaven (9/20/00, Birmingham, England)
'Til I Fell in Love with You (4/5/98, Buenos Aires, Argentina)
Not Dark Yet (9/22/00, Sheffield, England)
Cold Irons Bound (5/19/00, Oslo, Norway)
Make You Feel My Love (5/21/98, Los Angeles, California) (Previously released on the "Things Have Changed" maxi-single)

Can't Wait (5/19/00, Oslo, Norway)
Mississippi (11/15/01, Washington, D.C.)
Highlands (3/24/01, Newcastle, Australia)

CD 5: Bonus Disc (Previously Released on The Bootleg Series Vol. 8: Tell Tale Signs)

Dreamin' of You – Tell Tale Signs (10/1/96, Teatro)
Red River Shore – Tell Tale Signs, version 1 (1/19/97, Criteria Studios)
Red River Shore – Tell Tale Signs, version 2 (1/8/97, Criteria Studios)
Mississippi – Tell Tale Signs, version 1 (9/96, Teatro)
Mississippi – Tell Tale Signs, version 3 (1/17/97, Criteria Studios)
Mississippi – Tell Tale Signs, version 2 (1/17/97, Criteria Studios)
Marchin' to the City – Tell Tale Signs, version 1 (1/5/97, Criteria Studios)
Marchin' to the City – Tell Tale Signs, version 2 (1/6/97, Criteria Studios)
Can't Wait – Tell Tale Signs, version 1 (10/1/96, Teatro)
Can't Wait – Tell Tale Signs, version 2 (1/5/97, Criteria Studios)
Cold Irons Bound – Tell Tale Signs, live (6/11/04, Bonnaroo Music Festival)
Tryin' to Get to Heaven – Tell Tale Signs, live (10/5/00, London, England)

LP 1: Time Out Of Mind (2022 remix)

Side A

Love Sick
Dirt Road Blues
Standing in the Doorway
Million Miles

Side B

Tryin' to Get to Heaven
'Til I Fell in Love with You
Not Dark Yet

LP 2: Time Out Of Mind (2022 remix)

Side A

Cold Irons Bound
Make You Feel My Love
Can't Wait

Side B

Highlands

LP 3: Outtakes & Alternates

Side A

The Water Is Wide (8/19/96, Teatro)
Red River Shore – version 1 (9/26/96, Teatro)
Dirt Road Blues – version 1 (1/12/97, Criteria Studios)

Side B

Love Sick – version 1 (1/14/97, Criteria Studios)
Tryin' to Get to Heaven – version 2 (1/12/97, Criteria Studios)
Make You Feel My Love – Take 1 (1/5/97, Criteria Studios)
Can't Wait – version 1 (1/21/97, Criteria Studios)

LP 4: Outtakes & Alternates

Side A

Mississippi – version 2 (1/11/97, Criteria Studios)
Standing in the Doorway – version 1 (1/13/97, Criteria Studios)
Not Dark Yet – version 1 (1/11/97, Criteria Studios)

Side B

Cold Irons Bound (1/9/97, Criteria Studios)
Highlands (1/16/97, Criteria Studios)