What are the bonus tracks like on the Japanese CD edition of McCartney III?
Four bonus tracks for Japan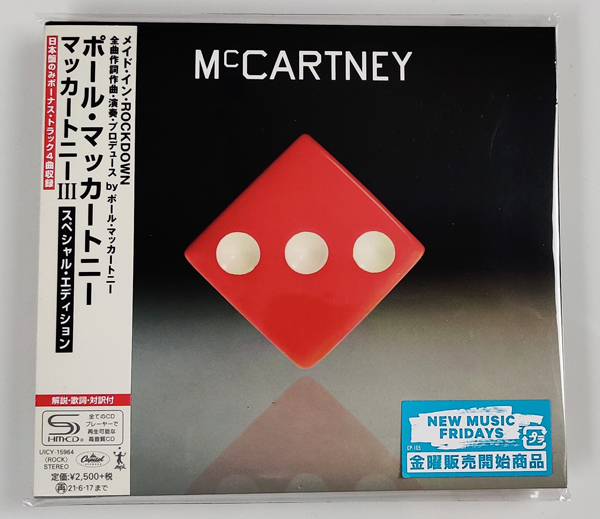 The Japanese CD edition of Paul McCartney's new album McCartney III comes with four bonus tracks, but what are they and is it worth shelling out for this version of the album?

The tracks in question are 'Women and Wives (studio outtake)', 'Lavatory Lil (studio outtake)', 'The Kiss of Venus (phone demo)' and 'Slidin' (Düsseldorf Jam)'. The only other way to get these bonus tracks, physically, is to buy all four of the 'coloured' CDs available from Paul McCartney's store (see this post) but I'd recommend going for the Japanese edition over doing this since it's cheaper and just seems less wasteful as you aren't duplicating the album four times.
I will admit to expecting these bonus cuts to be of marginal interest but they are actually all really good in their own way!
'Woman and Wives (studio outtake)' loses the drums and percussion and starts off very similar to the master version (in fact the vocal for verses one and two sounds identical to these ears), but the middle section ("When tomorrow comes around..") is completely different. Paul sings unfamiliar lyrics and a completely different melody. It's clearly an early version, since I think he's definitely improved it for the master version, but it's fascinating nonetheless. Also verse three has different lyrics as well.
'Lavatory Lil (studio outtake)' is an entirely acoustic version of the track and there's nothing from the finished cut present in this version. In fact, although I was damning about this song in the McCartney III review, I think this solo Paul-and-acoustic-guitar rendition gives it some much needed charm. It feels more of a casual throwaway ditty without all the production and the shouting backing vocals. Interesting!
'The Kiss of Venus (phone demo)' is fairly much what it says on the tin. Paul sounds like he's literally hit record on his smart phone and played an early version (which starts with verse 2) of the song. He's mostly got all the structure and lyrics sorted and it's an intimate rendition.
Finally, Slidin' (Düsseldorf Jam) is Paul and his band jamming an instrumental, embryonic version of the song. Lots of bluesy guitar and it all sounds very polished in a slight 'Flowers in the Dirt' kind of a way. This isn't at all in keeping with the rest of the record but, again, it's a fascinating listen.

The Japanese CD edition of McCartney III (click image to enlarge)
I like how relaxed Paul has been about issuing these extra tracks (even if you think it was cynical in terms of the four UK CDs) and as far as I can recall, this is the first time he's made demos of songs available from a new album at the time of release. These are definitely worth owning and are all but essential if you're a big McCartney fan.
I regret buying my copy from CD Japan, which ending up costing 4,783 Yen (about £35) shipped to the UK, plus an extra £18 in customs/handling charges (thanks DHL), making this a painfully expensive purchase. However, since Amazon UK are listing it with a release date of 15 January for £35 price-tag (and it's available in the US and elsewhere) that's probably a better option.
The CD is a SHM-CD (compatible with all CD players) and includes two booklets, OBI-strip, protection for the CD and the re-sealable outer sleeve. It uses the red dice and has a red spine and also has different pictures in the gatefold and a alternative image of Paul on the back, when compared to the standard UK CD.
The Japanese McCartney III CD is available in the UK from 15 January 2021.
Compare prices and pre-order
Paul McCartney
McCartney III - Japan CD with 4 bonus tracks
1. Long Tailed Winter Bird (5.17)
2. Find My Way (3.55)
3. Pretty Boys (3.01)
4. Women and Wives (2.53)
5. Lavatory Lil (2.23)
6. Deep Deep Feeling (8.27)
7. Slidin' (3.25)
8. The Kiss of Venus (3.09)
9. Seize The Day (3.23)
10. Deep Down (5.55)
11. Winter Bird/When Winter Comes (3.13)
12 Women and Wives (studio outtake) (3.15)
13. Lavatory Lil (studio outtake) (2.07)
14. The Kiss of Venus (phone demo) (2.11)
15. Slidin' (Düsseldorf jam) (4.58)