 News
The Beatles / Let It Be reissue
5CD+blu-ray •  5LP vinyl box • 2CD set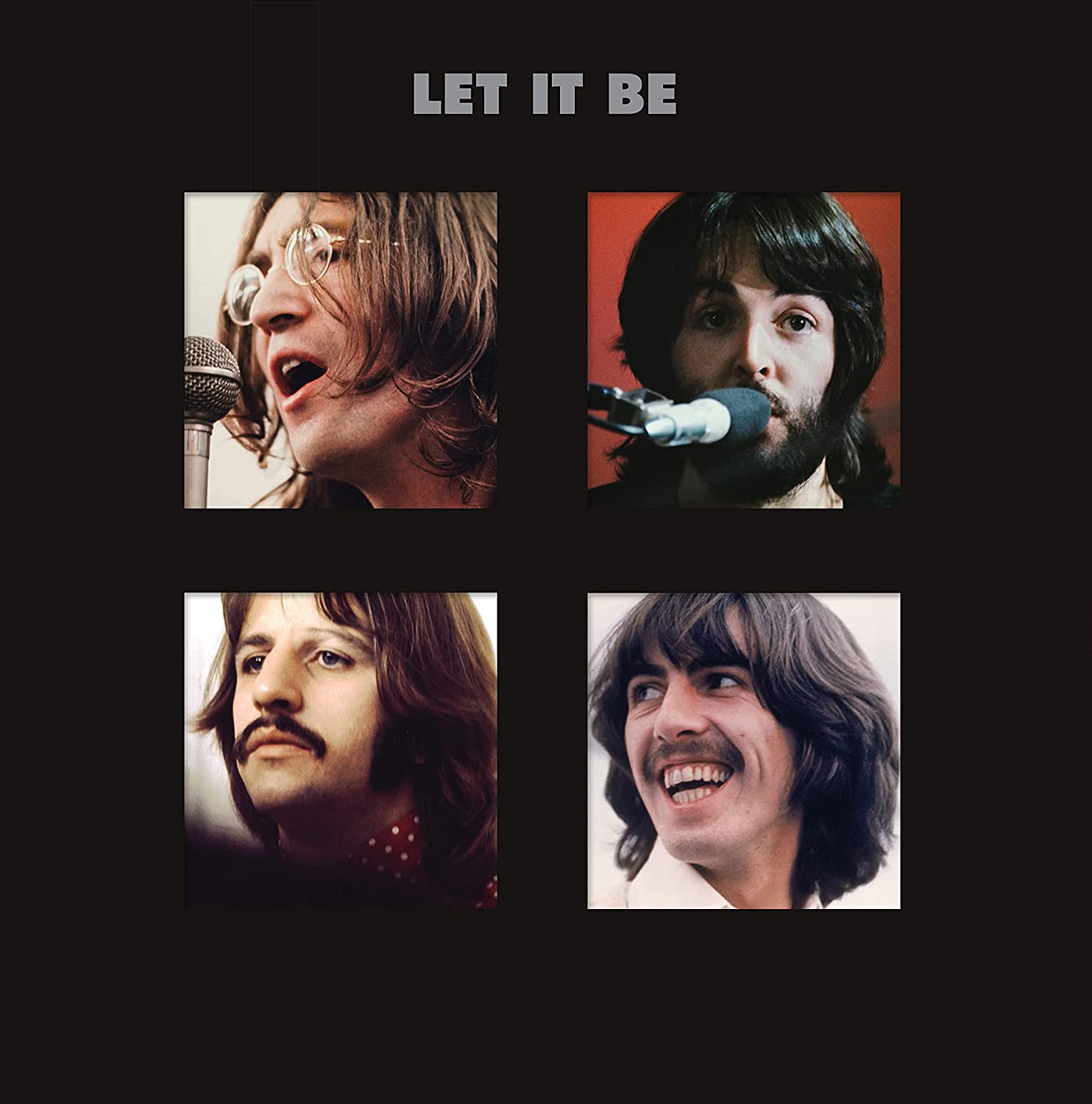 The last studio album that The Beatles released, 1970's Let It Be, will be reissued in October as a belated 50th anniversary edition.
Recorded in early 1969, and documented in Michael Lindsay-Hogg's Let It Be film, one single from these sessions ('Get Back' b/w 'Don't Let Me Down') emerged in April 1969 and attempts by Engineer Glyn Johns to knock the album (then called Get Back) into some kind of shape were in vain. His mix May 1969 mix was rejected and the tapes were mothballed (a second Johns mix was rejected again in January 1970).
The retitled Let It Be album was eventually issued in May 1970 after Phil Spector was given the task of creating an album from the many hours of tapes. By that point, The Beatles had already recorded and released Abbey Road, their final studio outing.
Paul McCartney was famously unhappy with Spector's fiddling with his songs ('The Long and Winding Road', in particular), but in typically frank style, John Lennon defended Spector in his 1970s interview with Rolling Stone, saying "He was given the shittiest load of badly recorded shit – and with a lousy feeling to it – ever".
2003's Let It Be Naked was largely seen as an attempt by Paul McCartney to correct a the 'wrongs' of the original record, although it wasn't all about Paul since Lennon fans got to enjoy the superb non-album 'Don't Let Me Down' on the record, since that was added to revised and remixed (by Allan Rouse) version of the album.
The new super deluxe 5CD+blu-ray super deluxe reissue of Let It Be doesn't bother to repeat Let It Be Naked but, more surprisingly, also doesn't include much from the 3 Savile Row rooftop concert. What it does offer is the 1969 Glyn Johns 'Get Back LP' mix, two CDs of alternate takes/jams, new mixes of the original Phil Spector version of the album (and a-sides/b-sides) and a new Dolby Atmos and 5.1 mix of Let It Be. With The Beatles Anthology, and Let It Be Naked, it's hard to keep track of what has been made available before and what hasn't, but Apple/UMC say that in total, the super deluxe edition features 27 previously unreleased session recordings.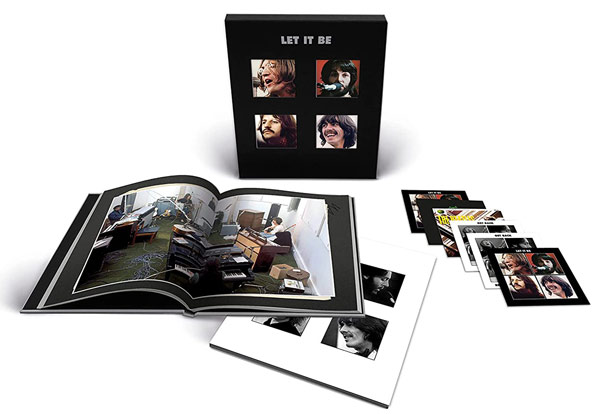 The content of the CD box set is as follows:
CD1 – New stereo mix (by Giles Martin) of the original album
CD 2 – Get Back – Apple Sessions: Various alternate takes
CD 3: Get Back: Rehearsals and Apple Jams
CD 4: Get Back LP: 1969 Glyn Johns Mix
CD 5: Let It Be EP: Two Glyn Johns Mixes from 1970 and new mixes of the single versions of Let It Be and Don't Let Me Down
Blu-ray: Dolby Atmos Mix, 5.1 mix, hi-res stereo version of new mix
The super deluxe comes as a book with outer slipcase and a book is also included with the 5-record vinyl super deluxe edition which offers exactly the same audio as its CD counterpart across four LPs and one 4-track 12-inch EP. It doesn't include the blu-ray with the surround mixes, however. The books are 100-page hardcover tomes with an introduction by Paul McCartney, extensive notes and track-by-track recording information and many previously unseen photos, personal notes, tape box images and more.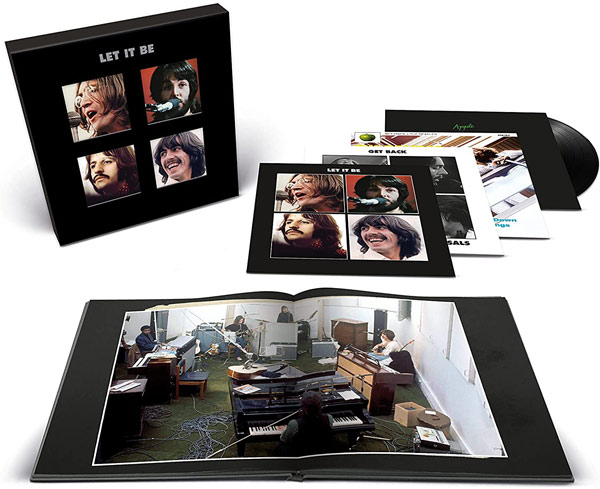 The 2CD edition offers a 14-track 'Outtake Highlights' disc featuring tracks from CDs 2 and 3 in the box set. The notable exception is that this bonus disc does include the Glyn Johns 1970 Mix of 'Across The Universe' from CD 5 in the box (the Let It Be EP). Glyn's 1969 Mix of the 'Get Back LP' is exclusive to the CD and vinyl box sets and is artworked up just as the bootlegs were, with the Please Please Me cover homage, featuring the four Beatles posing on EMI's Manchester Square stairwell, now seven years older! This image was unused at the time but became the cover to the 1967-1970 compilation issued in 1973.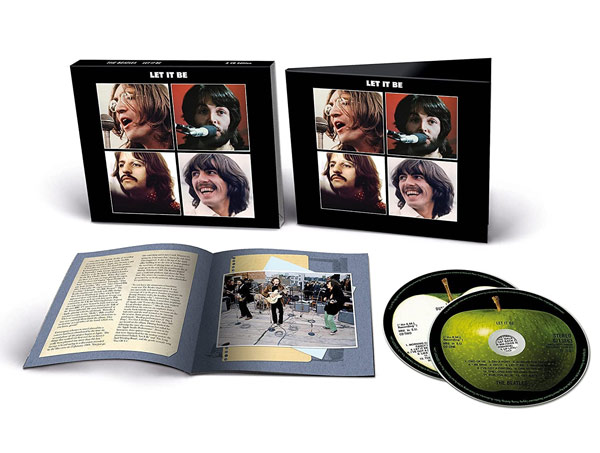 There is no 2LP vinyl edition, just a single LP version of Let It Be with Giles Martin and Sam Okell's new stereo remix. To enjoy any bonus material, vinyl fans have one choice: The five-record super deluxe.
Talking of the remix, all the new Let It Be releases feature the new stereo mix of the album as guided by the original "reproduced for disc" version by Phil Spector and sourced directly from the original session and rooftop performance eight-track tapes. The 5.1 surround DTS and Dolby Atmos mixes are guided by the same original Phil Spector version of the album.
Let It Be will be reissued on 15 October 2021. The Beatles: Get Back book will be released on the same day and Peter Jackson's three-part documentary will premiere on Disney+ in November.
Compare prices and pre-order
The Beatles
Let It Be - 5CD+blu-ray super deluxe with book
Compare prices and pre-order
The Beatles
Let It Be - 5LP vinyl box with book
Compare prices and pre-order
The Beatles
The Beatles Get Back - book
Compare prices and pre-order
The Beatles
Let It Be - 2CD deluxe edition
Compare prices and pre-order
The Beatles
Let It Be - single LP
Compare prices and pre-order
The Beatles
Let It Be - single CD
Tracklisting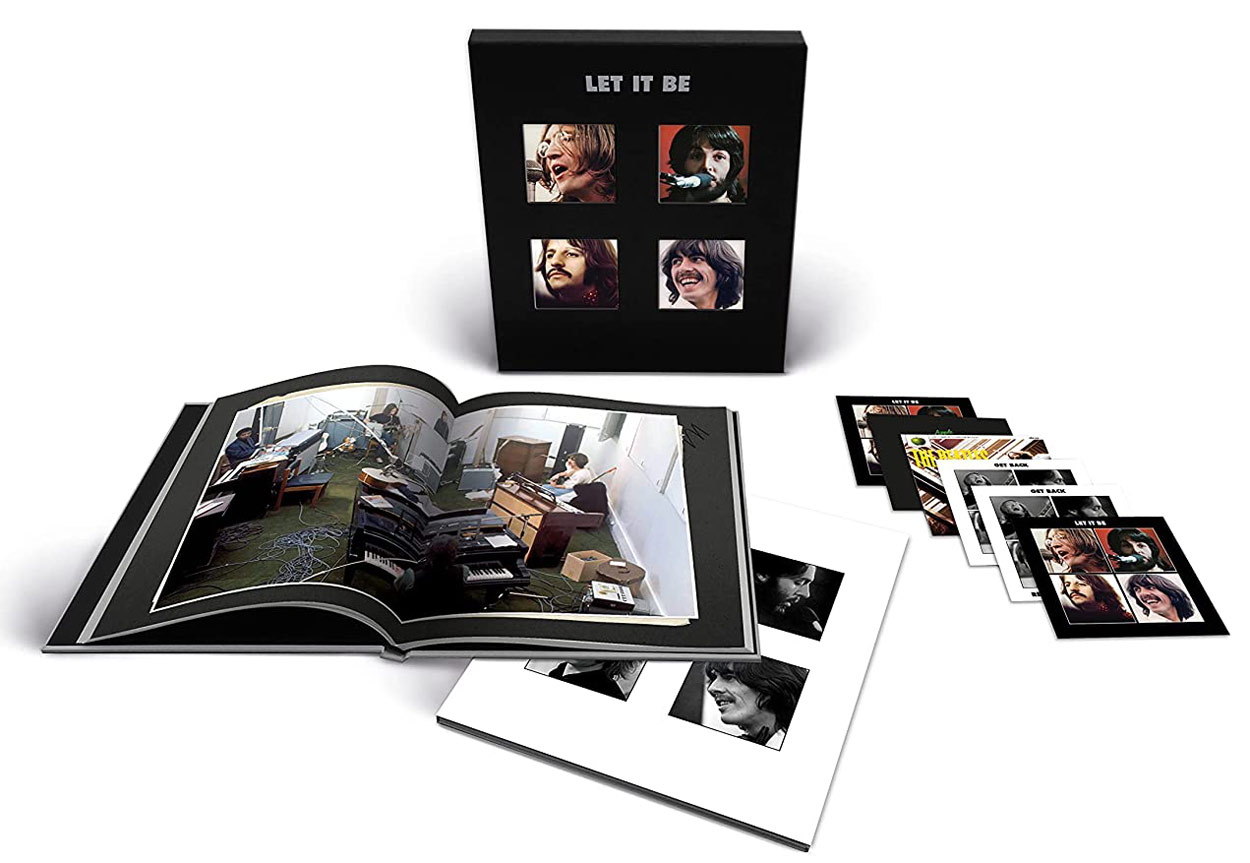 Let It Be The Beatles
/
5CD+blu-ray super deluxe
CD 1: Let It Be new stereo mix

Two Of Us
Dig A Pony
Across The Universe
I Me Mine
Dig It
Let It Be
Maggie Mae
I've Got A Feeling
One After 909
The Long And Winding Road
For You Blue
Get Back

CD 2: Get Back – Apple Sessions

Morning Camera (Speech) / Two Of Us (Take 4)
Maggie Mae / Fancy My Chances With You *
Can You Dig It?
I Don't Know Why I'm Moaning (Speech)*
For You Blue (Take 4)
Let It Be / Please Please Me / Let It Be (Take 10)
I've Got A Feeling (Take 10)
Dig A Pony (Take 14)
Get Back (Take 19)
Like Making An Album? (Speech)
One After 909 (Take 3)
Don't Let Me Down (First Rooftop Performance)
The Long And Winding Road (Take 19)
Wake Up Little Susie / I Me Mine (Take 11)

CD 3: Rehearsals and Apple Jams

On The Day Shift Now (Speech)*/All Things Must Pass (Rehearsals)
Concentrate On The Sound *
Gimme Some Truth (Rehearsal) *
I Me Mine (Rehearsal) *
She Came In Through The Bathroom Window (Rehearsal) *
Polythene Pam (Rehearsal) *
Octopus's Garden (Rehearsal) *
Oh! Darling (Jam)
Get Back (Take 8)
The Walk (Jam)
Without A Song (Jam – Billy Preston With John And Ringo)
Something (Rehearsal) *
Let It Be (Take 28)

CD 4: Get Back LP – 1969 Glyn Johns Mix

One After 909
Medley: I'm Ready (Aka Rocker) / Save The Last Dance For Me / Don't Let Me Down
Don't Let Me Down
Dig A Pony
I've Got A Feeling
Get Back
For You Blue
Teddy Boy
Two Of Us
Maggie Mae
Dig It
Let It Be
The Long And Winding Road
Get Back (Reprise)

CD 5: Let It Be EP

Across The Universe (Unreleased Glyn Johns1970 Mix)
I Me Mine (Unreleased Glyn Johns1970 Mix)
Don't Let Me Down (New Mix Of Original Single Version)
Let It Be (New Mix Of Original Single Version)

Blu-ray

The album as PCM stereo 94/24, DTS HD Master Audio 5.1 96/24 and Dolby Atmos 48/24

Two Of Us
Dig A Pony
Across The Universe
I Me Mine
Dig It
Let It Be
Maggie Mae
I've Got A Feeling
One After 909
The Long And Winding Road
For You Blue
Get Back
Tracklisting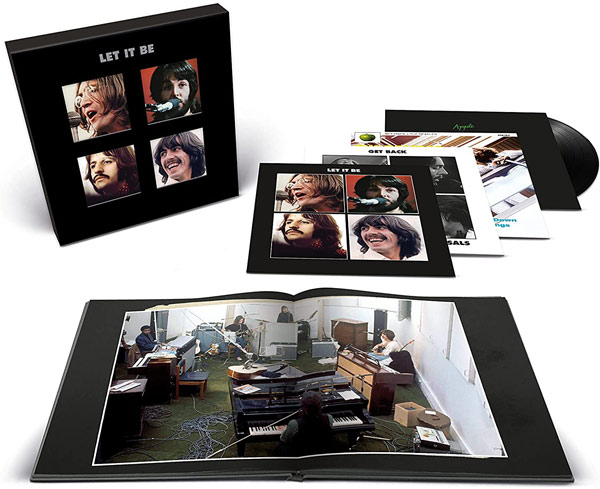 Let It Be The Beatles
/
5LP vinyl super deluxe
LP 1: Let It Be new stereo mix

Two Of Us
Dig A Pony
Across The Universe
I Me Mine
Dig It
Let It Be
Maggie Mae
I've Got A Feeling
One After 909
The Long And Winding Road
For You Blue
Get Back

LP 2: Get Back – Apple Sessions

Morning Camera (Speech) / Two Of Us (Take 4)
Maggie Mae / Fancy My Chances With You *
Can You Dig It?
I Don't Know Why I'm Moaning (Speech)*
For You Blue (Take 4)
Let It Be / Please Please Me / Let It Be (Take 10)
I've Got A Feeling (Take 10)
Dig A Pony (Take 14)
Get Back (Take 19)
Like Making An Album? (Speech)
One After 909 (Take 3)
Don't Let Me Down (First Rooftop Performance)
The Long And Winding Road (Take 19)
Wake Up Little Susie / I Me Mine (Take 11)

LP 3: Rehearsals and Apple Jams

On The Day Shift Now (Speech)*/All Things Must Pass (Rehearsals)
Concentrate On The Sound *
Gimme Some Truth (Rehearsal) *
I Me Mine (Rehearsal) *
She Came In Through The Bathroom Window (Rehearsal) *
Polythene Pam (Rehearsal) *
Octopus's Garden (Rehearsal) *
Oh! Darling (Jam)
Get Back (Take 8)
The Walk (Jam)
Without A Song (Jam – Billy Preston With John And Ringo)
Something (Rehearsal) *
Let It Be (Take 28)

LP 4: Get Back LP – 1969 Glyn Johns Mix

One After 909
Medley: I'm Ready (Aka Rocker) / Save The Last Dance For Me / Don't Let Me Down
Don't Let Me Down
Dig A Pony
I've Got A Feeling
Get Back
For You Blue
Teddy Boy
Two Of Us
Maggie Mae
Dig It
Let It Be
The Long And Winding Road
Get Back (Reprise)

12-inch EP: Let It Be EP

Across The Universe (Unreleased Glyn Johns1970 Mix)
I Me Mine (Unreleased Glyn Johns1970 Mix)
Don't Let Me Down (New Mix Of Original Single Version)
Let It Be (New Mix Of Original Single Version)
Tracklisting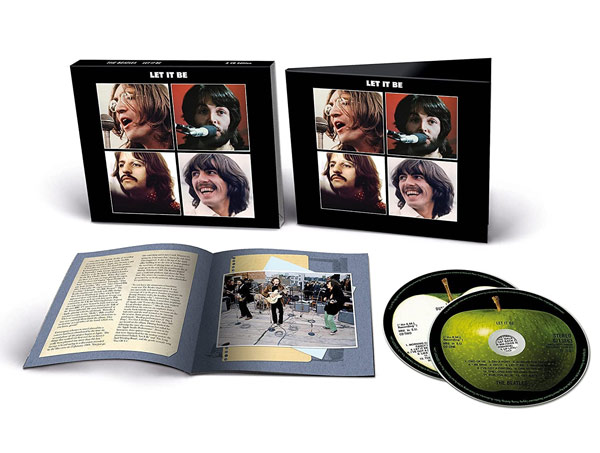 Let It Be The Beatles
/
2CD deluxe
CD 1: Let It Be new stereo mix

Two Of Us
Dig A Pony
Across The Universe
I Me Mine
Dig It
Let It Be
Maggie Mae
I've Got A Feeling
One After 909
The Long And Winding Road
For You Blue
Get Back

CD 2: Outtake Highlights

Morning Camera (Speech) / Two Of Us (Take 4)
Maggie Mae / Fancy My Chances With You *
For You Blue (Take 4)
Let It Be / Please Please Me / Let It Be (Take 10)]
The Walk (Jam)
I've Got A Feeling (Take 10)
Dig A Pony (Take 14)
Get Back (Take 8)
Like Making An Album? (Speech)
One After 909 (Take 3)
Don't Let Me Down (First Rooftop Performance)
The Long And Winding Road (Take 19)
Wake Up Little Susie / I Me Mine (Take 11)
Across The Universe (Unreleased Glyn Johns mix 1970)