 News
Now 3 coming to CD next month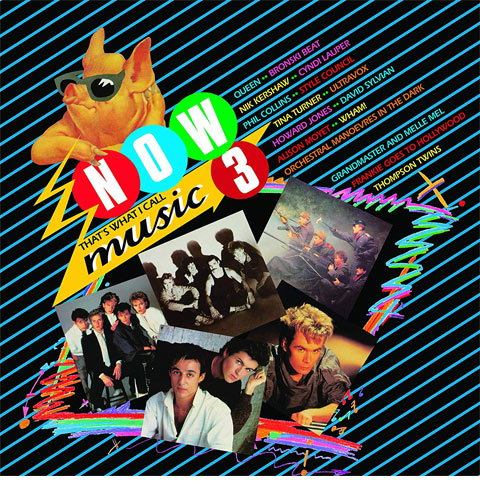 The 1984 compilation album Now That's What I Call Music 3 will be issued on CD for the first time next month.

The 30-track compilation was issued on 23 July 1984, slap bang in the middle of the best-ever year of pop. And unlike NOW 2, there's hardly a duffer or a flop amongst the tracks, which include three classic number ones in 'The Reflex' (Duran Duran), 'Two Tribes' (Frankie Goes To Hollywood) and 'Wake Me Up Before You Go Go' (Wham!). But the chart-toppers only tell half the story, because this collection includes many other eighties classics such as Bronski Beat's 'Smalltown Boy', Cyndi Lauper's 'Time After Time' and Nik Kershaw's 'I Won't Let The Sun Go Down On Me'.
The more modest hits are still great. Propaganda's 'Dr Mabuse' (#27) reminds us that ZTT and 1984 wasn't just about Frankie, even if it often seemed that way, and David Sylvian's Red Guitar peaked at 17 and is rewarded by being placed right at the end!
The new two-CD set omits two tracks: Gary Glitter's 'Dance Me Up' (no surprise there) and Bob Marley & The Wailers' 'One Love / People Get Ready' (surprise there).
It's already been established that the recent NOW 2 reissue used some incorrect mixes of the songs, so let's hope the compilers pay more attention this time around. The cover already offers cause for concern, if it matches what we're seeing on Amazon. The red, blue and green circles behind the N-O-W are far too bright and overly saturated… and what's happened to the words 'Double Album' '30 Top Thirty Hits' (okay, 28 now) and 'Original Artists' that appeared on the front of the original cover?
NOW 3 is released on 19 July 2019, almost exactly 35 years to the day of the original release.
Compare prices and pre-order
Various Artists
Now That's What I Call Music 3 - 2CD set
1 The Reflex / Duran Duran
2 I Won't Let The Sun Go Down On Me /Nik Kershaw
3 Thinking Of You / Sister Sledge
4 Locomotion / Orchestral Manoeuvres In The Dark
5 Dancing With Tears In My Eyes / Ultravox
6 Pearl In The Shell / Howard Jones
7 Don't Tell Me / Blancmange
8 Against All Odds (Take A Look At Me Now) / Phil Collins
9 Two Tribes / Frankie Goes To Hollywood
10 White Lines (Don't Do It) (Furious Five) / Grandmaster Flash & The Furious Five
11 Nelson Mandela / The Special AKA
12 Love Wars / Womack & Womack
13 You're The Best Thing / The Style Council
14 Smalltown Boy Bronski Beat
15 I Want To Break Free / Queen
16 Time After Time / Cyndi Lauper
17 / Love Resurrection / Alison Moyet
18 Young At Heart / The Bluebells
19 Robert De Niro's Waiting Bananarama
20 Dr Mabuse / Propaganda
21 What's Love Got To Do With It / Tina Turner
22 When You're Young And In Love / The Flying Pickets
23 Wake Me Up Before You Go Go / Wham
24 You Take Me Up/ The Thompson Twins
25 It's Raining Men / The Weather Girls
26 Susanna / The Art Company
27 One Better Day / Madness
28 Red Guitar / David Sylvian