 News
Now That's What I Call Music 7 to be reissued as a two-CD set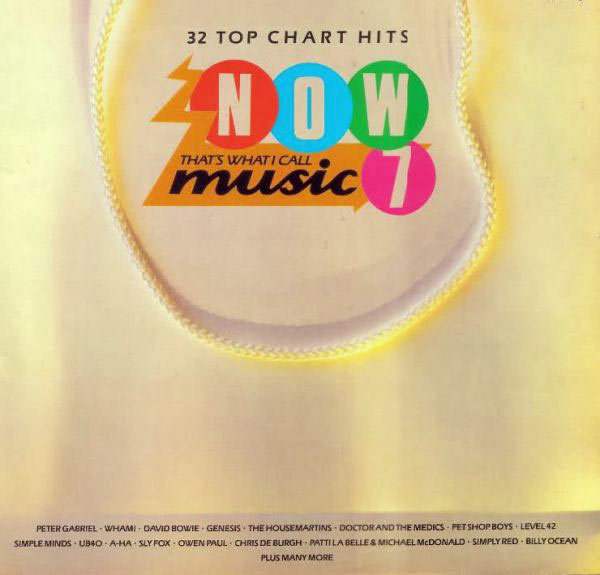 The 1986 compilation is released on CD for the first time
Now That's What I Call Music 7 is now available to pre-order as a two-CD set.

The compilation was originally issued in August 1986 and was a reasonably strong outing featuring hits of the day such as Peter Gabriel's 'Sledgehammer', the Pet Shop Boys 'Opportunities (Let's Make Lots of Money)', Wham!'s last single 'The Edge of Heaven', Bowie's 'Absolute Beginners', a-ha's 'Hunting High and Low', Simply Red's 'Holding Back The Years' and 'bonus track' Queen's 'A Kind of Magic'.
There's also plenty of top quality one-hit-wonders of the era too, such as Owen Paul's 'My Favourite Waste of Time', Stan Ridgeway's 'Camouflage', Furniture's 'Brilliant Mind' and Nu Shooz's 'I Can't Wait'.
Three tracks are missing from this reissue: David Bowie's 'Absolute Beginners', 'On My Own' (Patti Labelle And Michael McDonald) and The Real Roxanne's Bang Zoom (Let's Go Go). Disappointing and one presumes we can expect the usual sloppiness, where proper single versions are replaced by album cuts. The 'Now' team have ignored constant feedback about this from fans. Nevertheless, an essential purchase if you've been buying the others.
Now 7 is released on 27 November 2020 (was 20 Nov).
Compare prices and pre-order
Various Artists
NOW Thats What I Call Music! 7
Original track listing of Now 7
Sledgehammer
Peter Gabriel
Sing Our Own Song
UB40
Let's Go All The Way (Short Blix Mix)
Sly Fox
Lessons In Love
Level 42
Opportunities (Let's Make Lots Of Money)
Pet Shop Boys
Sinful!
Pete Wylie
Camouflage
Stan Ridgway
Paranoimia
The Art Of Noise And Max Headroom
The Lady In Red
Chris De Burgh
Absolute Beginners*
David Bowie
Invisible Touch
Genesis
All The Things She Said
Simple Minds
Happy Hour
The Housemartins
Look Away
Big Country
Brilliant Mind
Furniture
Call Of The Wild
Midge Ure
The Edge Of Heaven
Wham!
My Favourite Waste Of Time
Owen Paul
Too Good To Be Forgotten
Amazulu
Spirit In The Sky
Doctor & The Medics
Venus
Bananarama
New Beginning (Mamba Seyra)
Bucks Fizz
Hunting High And Low
A-Ha
Holding Back The Years
Simply Red
A Kind Of Magic
Queen
When The Going Gets Tough The Tough Gets Going
Billy Ocean
Set Me Free
Jaki Graham
I Can't Wait
Nu Shooz
Bang Zoom (Let's Go Go)
The Real Roxanne With Hitman Howie Tee*
Amityville (The House On The Hill)
Lovebug Starski
Headlines
Midnight Star
You And Me Tonight
Aurra
On My Own*
Patti Labelle And Michael McDonald