 News
Now That's What I Call Music 2 to be reissued on CD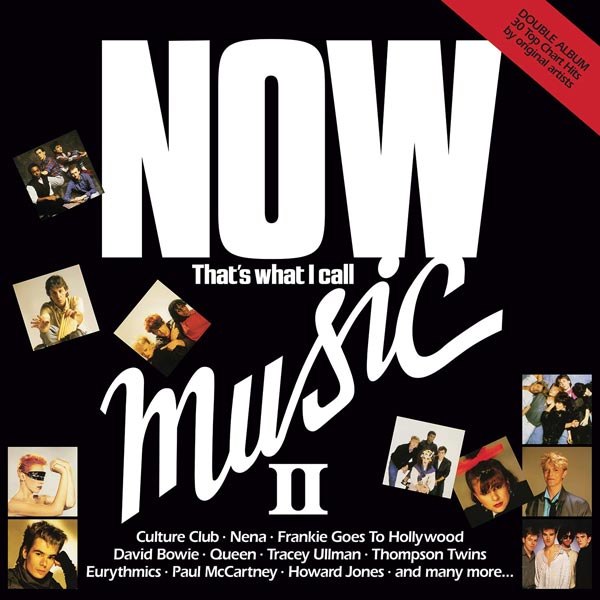 The very first Now That's What I Call Music compilation, issued in the UK in November 1983, has been reissued a number of times but the second volume, which followed four months after the first in March 84, is to be released on CD for the first time in April.

Now That's What I Call Music 2 has long considered to be one of the best 'NOWs' (it helps that it was issued in early '84, the best year in pop) and it effortlessly combines some contributions from relative veterans (Paul McCartney, The Rolling Stones, David Bowie, Slade, Queen) with brilliant 'new' pop from the likes of Frankie Goes To Hollywood, Eurythmics, Nik Kershaw, Thompson Twins, Nena and Cyndi Lauper.
The Smiths, China Crisis and Thomas Dolby keep things interesting and the way I remember it is that virtually EVERYONE bought this originally (the options were 2LP gatefold vinyl or double cassette).
NOW 2 is actually being reissued on vinyl as well, but it's the two-CD that is the most interesting aspect, especially at just over a tenner, in the UK. Presumably, the two-disc set will come in a simple jewel case, similar to last year's re-reissue of NOW 1.
Now That's What I Call Music 2 will be reissued on 12 April 2019.
Compare prices and pre-order
Various Artist
Now That's What I Call Music 2 - 2CD edition
Compare prices and pre-order
Various Artists
Now That's What I Call Music 2 - 2LP vinyl edition
Original track listing in 1984
Queen
Radio Ga Ga
Nik Kershaw
Wouldn't It Be Good
Thompson Twins
Hold Me Now
Matt Bianco
Get Out Of Your Lazy Bed
Carmel
More, More, More
Madness
Michael Caine
Flying Pickets
Only You
Nena
99 Red Balloons
Cyndi Lauper
Girls Just Want To Have Fun
Tracey Ullman
My Guy's Mad At Me
Matthew Wilder
Break My Stride
Julia & Company
Breakin' Down (Sugar Samba)
Joe Fagin
That's Living Alright
Hot Chocolate
I Gave You My Heart (Didn't I)
Snowy White
Bird Of Paradise
Frankie Goes To Hollywood
Relax
Eurythmics
Here Comes The Rain Again
Howard Jones
What Is Love?
The Smiths
What Difference Does It Make?
Fiction Factory
(Feels Like) Heaven
Re-Flex (2)
The Politics Of Dancing
Thomas Dolby
Hyperactive
China Crisis
Wishful Thinking
David Bowie
Modern Love
Culture Club
It's A Miracle
Rolling Stones*
Undercover Of The Night
Big Country
Wonderland
Slade
Run Runaway
Duran Duran
New Moon On Monday
Paul McCartney
Pipes Of Peace