 News
Now That's What I Call Music reissued on double CD and 2LP vinyl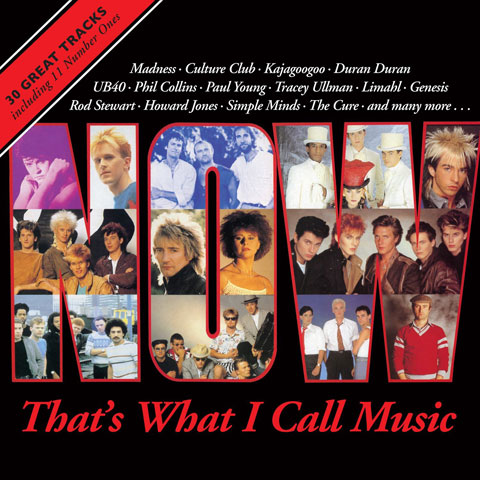 The original 1983 Now That's What I Call Music compilation – forever after referred to as 'NOW 1' – is being reissued on double vinyl and double CD in July.

Issued in November of 1983, the various artists set (issued on vinyl and cassette at the time) came about from a partnership between Virgin and EMI and featured an impressive 11 number one singles, amongst its "30 great tracks". These included singles from Phil Collins, Duran Duran, Bonnie Tyler, Paul Young and Culture Club.
Other record labels copied the formula at the time (The Hits Album, Out Now) but none matched the longevity of the 'NOW' series which continues to this day. Indeed, NOW 100 will be issued on the same day as this reissue.
It won't be the first time this has been reissued. In 2009 a 25th anniversary two-CD set was released, in vinyl replica packaging, although I seem to remember there were a few grumbles about different mixes/versions of some of the songs. Three years ago a vinyl edition was also reissued for Record Store Day.
Now That's What I Call Music will be reissued on 20 July 2018.
Compare prices and pre-order
Various Artists
Now 1 - 2CD reissue
Compare prices and pre-order
Various Artists
Now 1 - 2LP vinyl reissue
Compare prices and pre-order
Various Artists
NOW That's What I Call Music! 100
Now That's What I Call Music original track listing
Disc 1
1. You Can't Hurry Love – Phil Collins
2. Is There Something I Should Know? – Duran Duran
3. Red Red Wine – UB40
4. Only for Love – Limahl
5. Temptation – Heaven 17
6. Give It Up – KC and the Sunshine Band
7. Double Dutch – Malcolm McLaren
8. Total Eclipse of the Heart – Bonnie Tyler
9. Karma Chameleon – Culture Club
10. The Safety Dance – Men Without Hats
11. Too Shy – Kajagoogoo
12. Moonlight Shadow – Mike Oldfield
13. Down Under – Men at Work
14. (Hey You) The Rock Steady Crew – Rock Steady Crew
15. Baby Jane – Rod Stewart
16. Wherever I Lay My Hat (That's My Home) – Paul Young
Disc 2
1. Candy Girl – New Edition
2. Big Apple – Kajagoogoo
3. Let's Stay Together – Tina Turner
4. (Keep Feeling) Fascination – The Human League
5. New Song – Howard Jones
6. Please Don't Make Me Cry – UB40
7. Tonight, I Celebrate My Love – Peabo Bryson & Roberta Flack
8. They Don't Know – Tracey Ullman
9. Kissing with Confidence – Will Powers
10. That's All – Genesis
11. The Love Cats – The Cure
12. Waterfront – Simple Minds
13. The Sun and the Rain – Madness
14. Victims – Culture Club