 News
NOW 4 to be issued on CD in Nov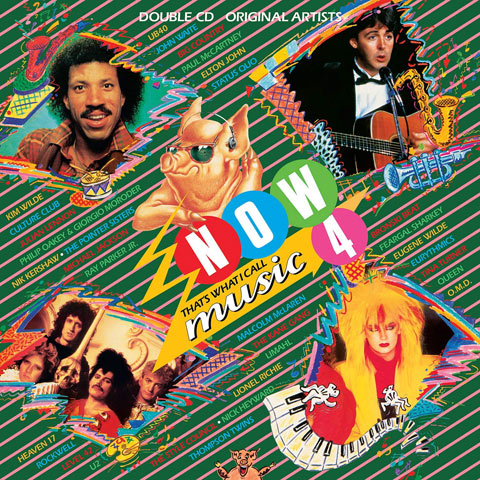 1984 compilation Now That's What I Call Music 4 is to be reissued as a two-CD set in November.

Unlike Now 3, the original track listing appears to be intact, although the 'Now' team sadly have a proven history of ineptitude – getting the versions of the tracks wrong by regularly replacing the single versions found on the original collections with the standard album version.
Paul McCartney's No More Lonely Nights, in particular, is one to be worried about in this instance, since not only did Now 4 use the faster 'playout' version of Paul's last transatlantic top ten solo single on the compilation (rather than the familiar ballad), but it was actually the rare Arthur Baker seven-inch remix of that variant! I have a feeling this could end in tears, but if they get it right it will only be the second time this has ever appeared on CD (it was added to the 1993 reissue of Macca's Give My Regards To Broad Street).
Of course, Now 4 was the first of the series to make an appearance on CD back in the day, albeit it was a single disc with 15 tracks not 32. Paul McCartney was one of the artists not to make it onto the CD and slightly bizarrely, some tracks from Now 3 ('The Reflex', 'What's Love Got To Do With It', etc.) ended up on this disc. This is a rarity that can easily require £300+ to secure on the secondhand market.
Now That's What I Call Music 4 will be issued as a two-CD set on 8 November 2019.
Compare prices and pre-order
Various Artists
Now 4 - 2CD set
CD 1
1. No More Lonely Nights / Paul McCartney
2 Together In Electric Dreams / Philip Oakey & Giorgio Moroder*
3 Why? / Bronski Beat*
4 The Never Ending Story / Limahl
5 Warning Sign / Nick Heyward
6 Missing You / John Waite*
7 Farewell My Summer Love / Michael Jackson
8 Hello / Lionel Richie
9 The War Song / Culture Club*
10 Passengers / Elton John
11 Too Late For Goodbyes / Julian Lennon*
12 Shout To The Top / The Style Council*
13 Doctor Doctor / The Thompson Twins*
14 Sunset Now / Heaven 17
15 Respect Yourself / The Kane Gang
16 Private Dancer (Single Edit) / Tina Turner
CD 2
1 It's A Hard Life / Queen
2 The Wanderer / Status Quo*
3 East Of Eden / Big Country
4 Pride (In The Name Of Love) / U2
5 Listen To Your Father / Feargal Sharkey
6 Tesla Girls / Orchestral Manoeuvres In The Dark*
7 The Second Time / Kim Wilde
8 Human Racing / Nik Kershaw
9 Ghostbusters / Ray Parker Jr*
10 If It Happens Again / UB40*
11 Jump (For My Love) / The Pointer Sister
12 Hot Water / Level 42
13 Sexcrime (Nineteen Eighty-Four)/ Eurythmics
14 Somebody's Watching Me / Rockwell
15 Madam Butterfly (Un Bel Di Vedremo) / Malcolm McLaren
16 Gotta Get You Home Tonight / Eugene Wilde
*on the original 1984 single CD edition, along with Duran Duran's 'The Reflex', Tina Turner's 'What's Love Got To Do With It (instead of 'Private Dancer'), Phil Collins' 'Against All Odds (Take A Look At Me Now) and Queen's Radio Ga Ga (instead of 'It's A Hard Life')